Our Daily Bread (ODB) Devotional: 17 October 2020 – A Singer's Heart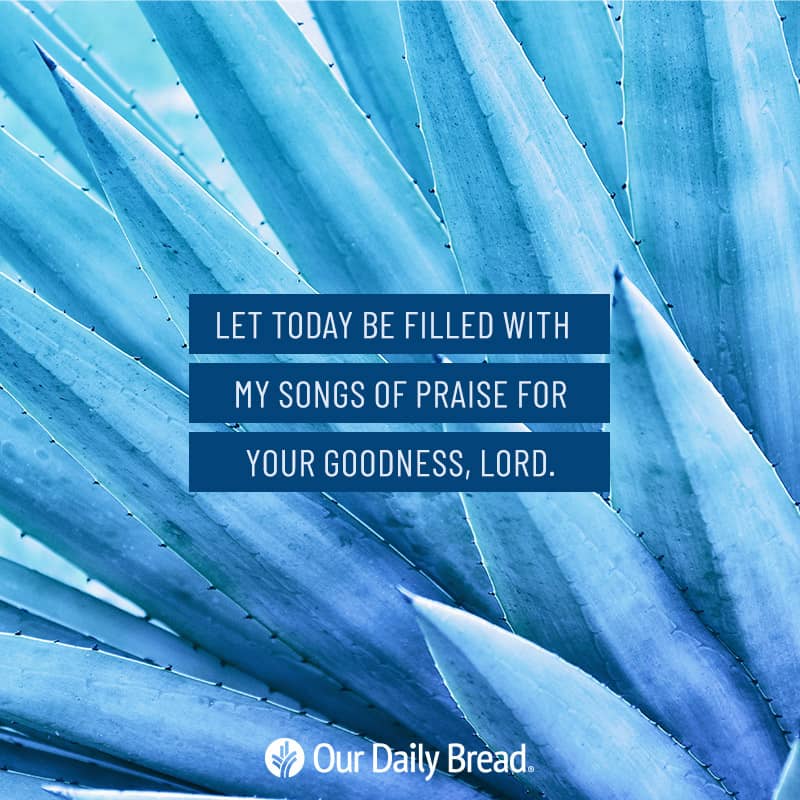 A Singer's Heart
By Adam R. Holz for ODB
Come, let us sing for joy to the Lord; let us shout aloud to the Rock of our salvation.
Psalm 95:1
Read: Psalm 95:1–7
Bible in a Year: Isaiah 50–52; 1 Thessalonians 5
The praise song drifted downstairs . . . at 6:33 on a Saturday morning. I didn't think anyone else was awake, but my youngest daughter's scratchy voice proved me wrong. She was barely conscious, but there was already a song on her lips.

My youngest is a singer. In fact, she can't not sing. She sings when she wakes up. When she goes to school. When she goes to bed. She was born with a song in her heart—and most of the time, her songs focus on Jesus. She'll praise God anytime, anywhere.
I love the simplicity, devotion, and earnestness of my daughter's voice. Her spontaneous and joyful songs echo invitations to praise God found throughout Scripture. In Psalm 95, we read, "Come let us sing for joy to the Lord; let us shout aloud to the Rock of our salvation" (v. 1). Reading further, we learn that this praise flows from an understanding of who He is ("For the Lord is the great God, the great King above all gods," v. 3)—and whose we are ("For he is our God and we are the people of his pasture," v. 7).
For my daughter, those truths are her first thought in the morning. By God's grace, this little worshiper offers us a profound reminder of the joy of singing to Him.
What prompts you to praise God for His faithfulness to you? What songs help you to remember and focus on His character and goodness?
God, thank You for who You are and for what You've done for me—and for all Your people—by inviting us to be sheep in Your pasture. Let today be filled with my songs of praise for Your goodness.


Psalm 95 belongs to a group of psalms called "enthronement psalms" or "royal psalms" because they use the royal image of a king celebrating and declaring God's sovereign reign over all creation and over all history. Other examples of enthronement psalms are Psalms 47, 93, 96–99. The royal psalms include such statements as "the Lord Most High is awesome, the great King over all the earth" (47:2); His "throne was established long ago . . . from all eternity" (93:2); "the Lord is the great God, the great King above all gods" (95:3).
Psalm 95 is easily outlined into two parts: a call to worship God as King (vv. 1–7a) and a warning not to reject Him as King (vv. 7b–11). In his warning, the psalmist draws from the Israelites' history of rebellion against and lack of faith in God at Meribah and Massah (v. 8; see Exodus 17:1–7). The writer of Hebrews had Psalm 95 in view when he wrote Hebrews 3:7–11.
Follow us on social media:
Facebook: @hottestnaijadotcom
Twitter: @wherehot
Instagram: @hottest9jablog
Click here to take a look at our posts on gospel music download
or click this link to see all posts that include gospel music lyrics
You may also like our gospel worship songs page which contains, the best, coolest and hottest Nigerian Gospel Songs, and Foreign Gospel Songs. Whatsoever is the mood, we've got you covered.
Do you feel like dancing, rejoicing, shouting, screaming, or you're filled with jubilation because of the Mighty things the Lord has done? Then look no further, cos our gospel praise songs page, containing the hottest Nigerian and foreign praise songs collection, was prepared specifically for you.
Peradventure you need the lyrics of the songs you are downloading now, just downloaded, or have downloaded before, our lyrics page is the best place to look. What more could be more helpful and entertaining than seeing the lyrics of your most favourite song before you, as the music unfolds unto the climax. Hey we've been there before, and still encounter it from time to time when the vocals get lost in the cloud of heavy orchestration.
Are You a Classical Music lover, our classical music page, contains the best of classical songs, composed and written by composers like G. F Handel, Bach, Joseph Haydn, etc.
As you listen to your best gospel song, you may also want to get some more insight and knowledge about the word of God, from eBooks written by God's servants, or you may want to learn something new or build yourself up in some way. Then our eBook Page is the right place to look.
You may be in need of entertainment, and probably want to watch a video too. We understand that as well. You can get entertaining music videos from our videos page.
RELATED
Our Daily Bread (ODB) Devotional + Insight: 31 October 2020 - Sticks, Bricks and God