Our Daily Bread (ODB), 6 October 2020 – You'll See Her Again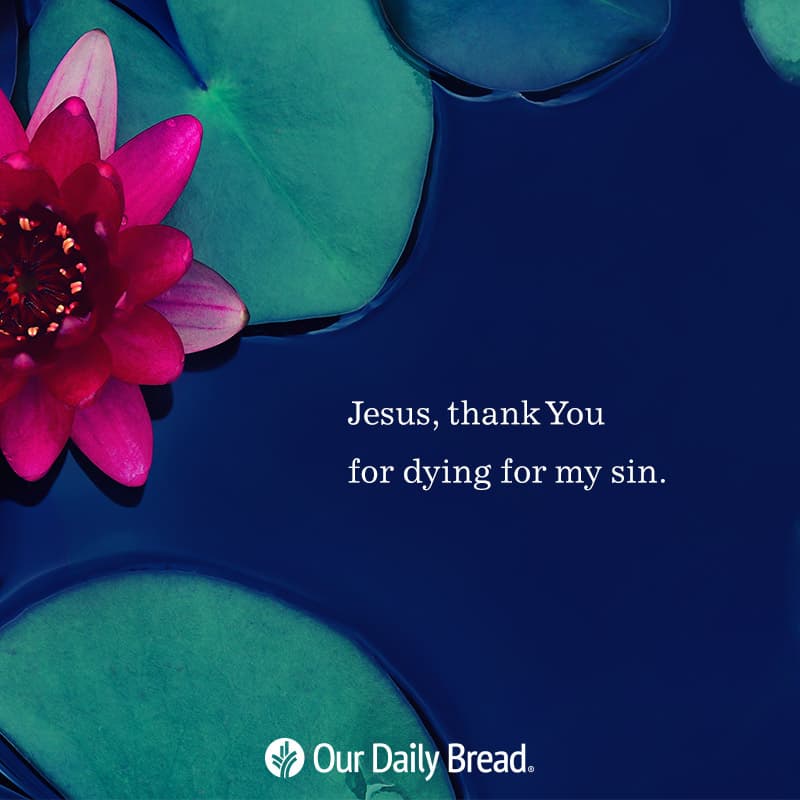 You'll See Her Again
By Jennifer Benson Schuldt for ODB
For as in Adam all die, so in Christ all will be made alive.
1 Corinthians 15:22
Read: 1 Corinthians 15:3–4, 12–22
Bible in a Year: Isaiah 26–27; Philippians 2
The room was dim and silent as I pulled a chair close to Jacquie's bed. Before a three-year battle with cancer, my friend had been a vibrant person. I could still picture her laughing—eyes full of life, her face lit with a smile. Now she was quiet and still, and I was visiting her in a special care facility.
Not knowing what to say, I decided to read some Scripture. I pulled my Bible out of my purse and turned to a reference in 1 Corinthians and began to read.
After the visit and an emotional time in the seclusion of my parked car, a thought came to mind that slowed my tears: You'll see her again. Caught up in sadness, I had forgotten that death is only temporary for believers (1 Corinthians 15:21–22). I knew I'd see Jacquie again because both of us had trusted in Jesus' death and resurrection for the forgiveness of our sin (vv. 3–4). When Jesus came back to life after His crucifixion, death lost its ultimate power to separate believers from each other and from God. After we die, we'll live again in heaven with God and all of our spiritual brothers and sisters—forever.
Because Jesus is alive today, believers in Him have hope in times of loss and sorrow. Death has been swallowed up in the victory of the cross (v. 54).
How has God comforted you in times of sorrow? How might He want to use you to comfort someone who's grieving today?
Dear Jesus, thank You for dying for my sin. I believe that You're alive today because God raised You from the dead.
Insight
When Paul says that "if only for this life we have hope in Christ, we are of all people most to be pitied" (1 Corinthians 15:19), he's writing in light of the personal sufferings he described earlier in his letter (4:8–13). Though his readers were enjoying the present benefits of knowing Jesus, he'd endured great pain and loss to bring them the good news of everlasting life. While affirming that he'd found in Christ a treasure worth living and dying for, he wanted them to see his suffering as Spirit-enabled evidence of the eternal love and power of God (2:3–5).
Please help spread the gospel. Share our posts on social media using the share buttons. He who wins a soul is wise. God bless you abundantly!

Follow us on social media:
Facebook: @hottestnaijadotcom
Twitter: @wherehot
Instagram: @hottest9jablog
You may also like our
gospel worship songs
page which contains, the best, coolest and hottest
Nigerian Gospel
Songs, and Foreign Gospel Songs. Whatsoever is the mood, we've got you covered.
Do you feel like dancing, rejoicing, shouting, screaming, or you're filled with jubilation because of the Mighty things the Lord has done? Then look no further, cos our gospel praise songs page, containing the hottest Nigerian and foreign praise songs collection, was prepared specifically for you.
Peradventure you need the lyrics of the songs you are downloading now, just downloaded, or have downloaded before, our lyrics page is the best place to look. What more could be more helpful and entertaining than seeing the lyrics of your most favourite song before you, as the music unfolds unto the climax. Hey we've been there before, and still encounter it from time to time when the vocals get lost in the cloud of heavy orchestration.
Are You a Classical Music
lover
, our
classical music
page, contains the best of classical songs, composed and written by composers like G. F Handel, Bach, Joseph Haydn, etc.
As you listen to your best gospel song, you may also want to get some more insight and knowledge about the word of God, from eBooks written by God's servants, or you may want to learn something new or build yourself up in some way. Then our eBook Page is the right place to look.
You may be in need of entertainment, and probably want to watch a video too. We understand that as well. You can get entertaining video downloads from our video downloads page.
RELATED
MUSIC: Abarak - Moment of Praise Medley Download Makosa (Two Way) Version