Our Daily Bread (ODB) Devotional, 18 October 2020 – Listening Beyond The Stars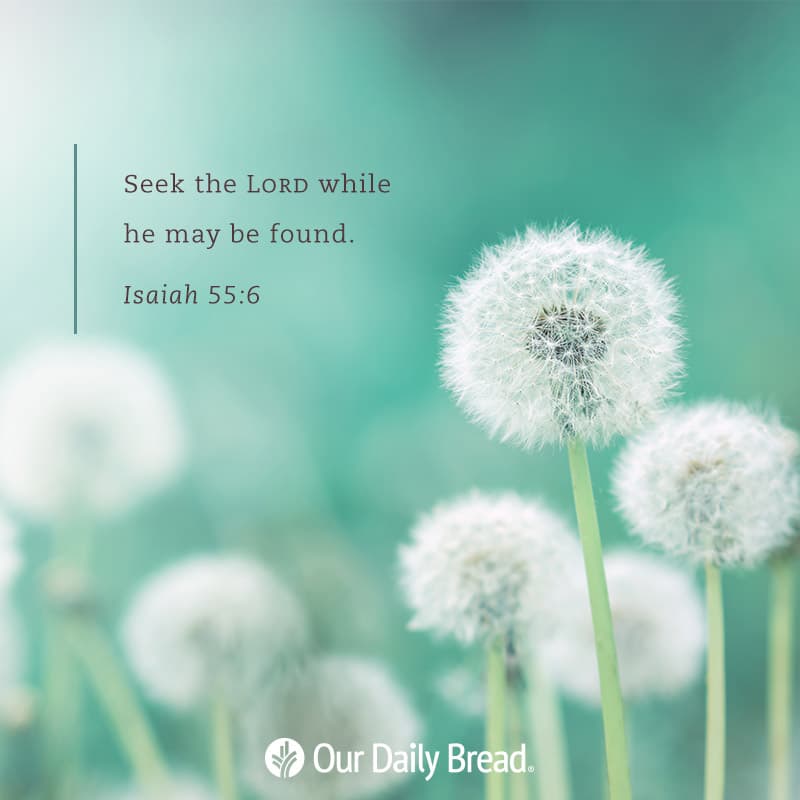 Listening Beyond the Stars – ODB October 18 2020
By James Banks for ODB
Seek the Lord while he may be found.
Isaiah 55:6
Read: Isaiah 55:1–7
Bible in a Year: Isaiah 53–55; 2 Thessalonians 1
Imagine life without mobile phones, Wi-Fi, GPS, Bluetooth devices, or microwave ovens. That's the way it is in the little town of Green Bank, West Virginia, known as "the quietest town in America." It's also the location of the Green Bank Observatory, the world's largest steerable radio telescope. The telescope needs "quiet" to "listen" to naturally occurring radio waves emitted by the movement of pulsars and galaxies in deep space. It has a surface area larger than a football field and stands in the center of the National Radio Quiet Zone, a 13,000-square-mile area established to prevent electronic interference to the telescope's extreme sensitivity.
This intentional quiet enables scientists to hear "the music of the spheres." It also reminds me of our need to quiet ourselves enough to listen to the One who created the universe. God communicated to a wayward and distracted people through the prophet Isaiah, "Give ear and come to me; listen, that you may live. I will make an everlasting covenant with you" (Isaiah 55:3). God promises His faithful love to all who will seek Him and turn to Him for forgiveness.
We listen intentionally to God by turning from our distractions to meet Him in Scripture and in prayer. God isn't distant. He longs for us to make time for Him so He can be the priority of our daily lives and then for eternity.

Why is listening to God so vital in your life? In what ways do you plan to take time for Him?
Help me to be quiet before You today, loving God, even if it's only for a moment! Nothing matters more than being with You!
Insight
Having one's thirst quenched and being satisfied with fine food are metaphors for the blessings that will flow from God's covenant with David. We share in these blessings through Jesus Christ, the Son of David, who fulfilled God's promise to David of an eternal dynasty through his descendant (2 Samuel 7:12–16). Through David and his descendant—Jesus—God would give an endless "witness" to the world that Yahweh is "the Holy One of Israel" (Isaiah 55:4–5). The church is later described as such a witness (Acts 1:8).
Follow us on social media:
Facebook: @hottestnaijadotcom
Twitter: @wherehot
Instagram: @hottest9jablog
Disclaimer: This post contains links by our advertisers. Presence of such links does not warrant endorsements by HottestNaija. Your use of their services, is subject to their terms of service.
Click here to take a look at our posts on gospel music download
or click this link to see all posts that include gospel music lyrics
You may also like our gospel worship songs page which contains, the best, coolest and hottest Nigerian Gospel Songs, and Foreign Gospel Songs. Whatsoever is the mood, we've got you covered.

Do you feel like dancing, rejoicing, shouting, screaming, or you're filled with jubilation because of the Mighty things the Lord has done? Then look no further, cos our gospel praise songs page, containing the hottest Nigerian and foreign praise songs collection, was prepared specifically for you.
Peradventure you need the lyrics of the songs you are downloading now, just downloaded, or have downloaded before, our lyrics page is the best place to look. What more could be more helpful and entertaining than seeing the lyrics of your most favourite song before you, as the music unfolds unto the climax. Hey we've been there before, and still encounter it from time to time when the vocals get lost in the cloud of heavy orchestration.
Are You a Classical Music lover, our classical music page, contains the best of classical songs, composed and written by composers like G. F Handel, Bach, Joseph Haydn, etc.
As you listen to your best gospel song, you may also want to get some more insight and knowledge about the word of God, from eBooks written by God's servants, or you may want to learn something new or build yourself up in some way. Then our eBook Page is the right place to look.
You may be in need of entertainment, and probably want to watch a video too. We understand that as well. You can get entertaining music videos from our videos page.