Our Daily Bread (ODB) + Insight, 19 October 2020 – Stronger Than Hate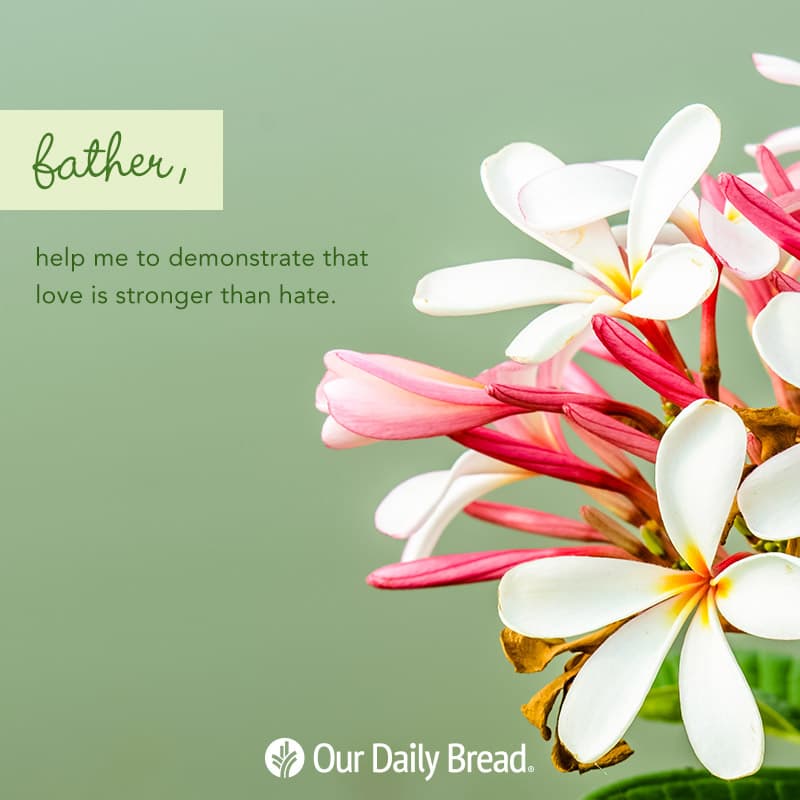 Stronger than Hate – ODB for 19th October 2020
By Arthur Jackson for ODB
Father, forgive them, for they do not know what they are doing.
Luke 23:34
Read: Luke 23:32–34, 44–46

Bible in a Year: Isaiah 56–58; 2 Thessalonians 2
Within twenty-four hours of his mother Sharonda's tragic death, Chris found himself uttering these powerful, grace-filled words: "Love is stronger than hate." His mother, along with eight others, had been killed at a Wednesday night Bible study in Charleston, South Carolina. What was it that had so shaped this teenager's life that these words could flow from his lips and his heart? Chris is a believer in Jesus whose mother had "loved everybody with all her heart."
In Luke 23:26–49 we get a front row seat to an execution scene that included two criminals and the innocent Jesus (v. 32). All three were crucified (v. 33). Amid the gasps and sighs and the likely groans from those hanging on the crosses, the following words of Jesus could be heard: "Father, forgive them, for they do not know what they are doing" (v. 34). The hate-filled initiative of the religious leaders had resulted in the crucifixion of the very One who championed love. Though in agony, Jesus' love continued to triumph.
How have you or someone you love been the target of hate, ill-will, bitterness, or ugliness? May your pain prompt your prayers, and may the example of Jesus and people like Chris encourage you by the power of the Spirit to choose love over hate.

When have you found it hard to love someone? Is there someone you find it hard to forgive now? What steps might you take?
Father, forgive me when I find it hard to forgive others. Help me to demonstrate that love is stronger than hate.
Insight
In Luke 23:34, Jesus asked God to forgive those who mocked Him and hung Him on the cross. The people and rulers scoffed, "He saved others; let him save himself if he is God's Messiah, the Chosen One" (v. 35). What they didn't understand was that Jesus was saving others—and them—by freely giving Himself. One simply needs to accept this gift of salvation.
Psalm 22 resonates through Luke's words. The words of Psalm 22:8—"Let [the Lord] deliver him, since he delights in him"—are reflected in Luke 23:35. That Jesus was mocked is a fulfillment of Psalm 22:6–18, which describes "villains" surrounding Him, piercing His hands and feet, and casting lots for His clothes. The mockers likely didn't realize their actions were fulfilling Old Testament prophecy and therefore proving Christ was the Messiah.
Follow us on social media:
Facebook: @hottestnaijadotcom
Twitter: @wherehot
Instagram: @hottest9jablog
Disclaimer: This post contains links by our advertisers. Presence of such links does not warrant endorsements by HottestNaija. Your use of their services, is subject to their terms of service.
Click here to take a look at our posts on gospel music download
or click this link to see all posts that include gospel music lyrics
You may also like our gospel worship songs page which contains, the best, coolest and hottest Nigerian Gospel Songs, and Foreign Gospel Songs. Whatsoever is the mood, we've got you covered.
Do you feel like dancing, rejoicing, shouting, screaming, or you're filled with jubilation because of the Mighty things the Lord has done? Then look no further, cos our gospel praise songs page, containing the hottest Nigerian and foreign praise songs collection, was prepared specifically for you.
Peradventure you need the lyrics of the songs you are downloading now, just downloaded, or have downloaded before, our lyrics page is the best place to look. What more could be more helpful and entertaining than seeing the lyrics of your most favourite song before you, as the music unfolds unto the climax. Hey we've been there before, and still encounter it from time to time when the vocals get lost in the cloud of heavy orchestration.
Are You a Classical Music lover, our classical music page, contains the best of classical songs, composed and written by composers like G. F Handel, Bach, Joseph Haydn, etc.
As you listen to your best gospel song, you may also want to get some more insight and knowledge about the word of God, from eBooks written by God's servants, or you may want to learn something new or build yourself up in some way. Then our eBook Page is the right place to look.
You may be in need of entertainment, and probably want to watch a video too. We understand that as well. You can get entertaining music videos from our videos page.